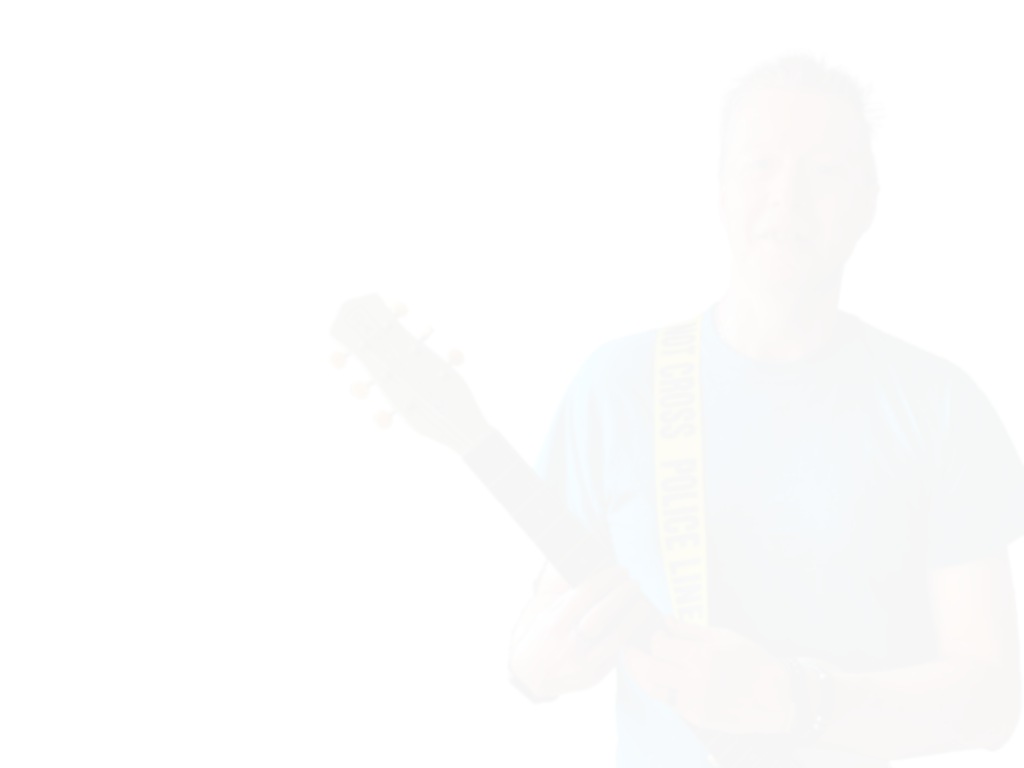 Singer/Songwriter
I write the songs that don't make anyone sing. Sometime in the mid-'80s, I began expressing an interest in making music, rather than just listening to it. I'd been part of a Baptist church choir briefly (yes, it's true), and my parents bought me a small Yamaha keyboard to tinker with. There was a recorder in the house I tried to play, too, and my sister eventually passed on the acoustic guitar she'd gotten but never really learned.
In the meantime, I began attending the Dean's Summer Scholars Program at Rutgers University in New Brunswick, New Jersey, in 1987. Stumbling upon a song parody-writing session in the lounge at Tinsley Hall one afternoon, I contributed a line or two to "Newark, Newark," and shortly thereafter, I joined (possibly co-founded, but I'm not sure; it was a long time ago) the Hellevators. I brought that little Yamaha keyboard with me to Rutgers, and though I couldn't play very much, or very well, I was the only one of the four original members who could play anything. Heh... We were soon augmented by Sue Schleck, with a better keyboard and actual talent to go with it, and after replacing another of the band members, we went on to perform two shows for our fellow Summer Scholars (and the dean of Rutgers College!) and record a cassette's worth of bad parodies, the kind that could've persuaded "Weird Al" Yankovic to give up music and become an architect instead.
The Hellevators never officially disbanded, but the end of the Program effectively spelled the end of the group. (Hmmm, I wonder if I can get everyone together for a 30th anniversary world tour...) I did re-record our first song, "Newark, Newark," solo a few years later, in a bad lounge style, for a lark. In 1989, after dropping out of college (the first time), I decided that an electric guitar would console me quite nicely. Not that I'd really gotten any good with the acoustic yet... but what the hell. Roxanne, as I named her, was not a flashy rock guitar, just a black Epiphone knockoff of the Fender Stratocaster, but she served me well during the early Not An Exit days, and I do still play this guitar occasionally. Although she's a right-handed instrument, I string her lefty and play her "upside-down," like Hendrix did. Makes getting to the last few frets very difficult, but... hey, it works, and I don't often play that high up on the fretboard anyway. She's got a 'PAID' sticker (from my Toys "R" Us days) between two pickups, and any number of minor dents from being battered around, but she still plays well, slung way down low.
I started getting a bit more serious about music in 1991. That's when I first tried recording songs that weren't just parodies, and that's when I first tried my hand at writing music and lyrics. My guitar-playing in the early days, though, was very stiff and basic, and I didn't even try to learn any real chords for a few years, because it just seemed too difficult and painful on the fingers. However, once Jon Wardell and I formed the experimental duo Not An Exit in 1992, I had a reason to devote a little more time and attention to Roxanne, and I started to improve. Our first few recordings featured keyboards more than guitar, but our industrial take on the Doors' "Not to Touch the Earth" contains a bizarre attempt at a guitar solo, and the original recording of the NAE classic "Dead" has a Chuck Berry-inspired solo. Kinda. A neighbor in Garfield offered to sell me his cheap bass guitar and amp, and I decided to take him up on it. Restringing a right-handed bass lefty doesn't work quite as well; I probably should've turned the nut around, but...
In the summer of 1994, Brazil's World Cup win inspired me to improvise the "Victory Samba." While my own early music as well as Not An Exit's had been recorded onto tape (which made multi-tracking a lot of fun), I soon figured out how to use my new Macintosh Performa 550 to record audio digitally, and it certainly helped improve the quality. Late in 1996, I recorded a few covers (and the original version of "Human Thing"), and by then I was able to lay down some acceptable rhythm guitar. The first demo of "The Hate Theme from 'Waiting for X'" dates from 1998; the title came from an error message a co-worker and I noticed on his computer about a year earlier, something about 'waiting for x.' I thought it sounded like a movie title, and then I decided that that movie needed not a love theme (everyone does those!), but a hate theme instead. I like to think of this piece as some sort of modern electronic classical music, but I have yet to finish it. The original demo contains the sound of my then-girlfriend Karen's blowdryer in the background, not really audible until the very end when the music stops! I made a second demo in 2005, but haven't touched the song since then.
1999 found me recording the lo-fi techno/gabber "Troll Doll," which had a surprising number of fans; many of them were disappointed that it wasn't included on my first album and that I have no intention of re-recording it. It's got so many Metallica samples that James Hetfield and Lars Ulrich would probably personally kick my ass, though. Heh-heh-heh... I enjoy the track myself and had a lot of fun putting it together, but it was very much a product of its time, and it's not going to be revisited. I also recorded the industrial "J-ded" in 1999, as well as a rock 'n roll cover of Buddy Holly's "Not Fade Away." The following year, I finally sat myself down and got that cover of Nine Inch Nails' "Terrible Lie" out of my head and onto a recording, and I began working in earnest on Joy in the New, my DIY debut album.
While I'd written the occasional song since 1991, it wasn't until I penned "For Dana" in 1999 that I seriously considered recording my own album of material. Not An Exit had always worked rather slowly, with a number of tracks never quite reaching the finished stage, and I wanted to get music out of me. Of course, my original optimistic schedule anticipated the album being fully recorded by the end of 2001. Ooops. I wrote the tune "Joey Ramone's Dead" shortly after the punk legend's demise early that year, and decided I'd give the album the same title, but as time marched on and the album wasn't ready yet, I realized that it wouldn't have made sense to release an album called Joey Ramone's Dead in the summer of 2004, after Dee Dee had also expired and shortly before Johnny shuffled off this mortal coil, too. Besides, both the track listing and the overall vibe of the album had changed since those darker days, and Joy in the New seemed more appropriate by the time I was recording the last few songs.
I acquired an aqua left-handed Danelectro 56-U2 guitar named Nena (my usual weapon of choice these days) in early 2003, and both this guitar and Roxanne were used in recording Joy. You can see them both on the back cover. After years of promises, propaganda, and procrastination, Joy in the New, an album's worth of original music (with one Not An Exit 'cover,' the song "Not An Exit"), was released on Tuesday, August 3, 2004; you can read the official press release here, and an August 25, 2004 article from local newspaper the South Bergenite here. The release date was pushed back three times, but hey, it wouldn't have been an Andersen Silva production if there hadn't been delays involved. I played all the guitar, bass, and keyboard parts myself, programmed/sequenced the drums (using Virtual Drummer and iDrum on the Macs, and a used Alesis SR-16 drum machine I picked up), and applied my voice through a Shure microphone. One song, "American in London," features the distinctive sound of an EBow Plus (rather than a pick) during the guitar solo. I really need to use that thing again... I recorded everything at home, using an iBook SE and a Power Macintosh 7200 beefed up with a G3 processor, mostly using Sound Sculptor II (which has since been upgraded to the OS X-friendly Sound Sculptor Pro), and while there isn't any of that fancy engineering or mastering stuff on there, I'm happy with the way it turned out. A little of the package's artwork was done by me, but most was volunteered by two good friends, great artists, and fellow Toys "R" Us survivors, Steve Augulis and my Not An Exit cohort Jon Wardell.
Two of the album's tracks have been released elsewhere, before my own album came out; "For Dana" was included on Kid Antrim Music's 2002 Rock Compilation CD, and the pop-punk "Blond on Blonde" is on Crankspiv Records' Volume III compilation, also from 2002. Joy in the New is available from the iTunes Music Store, Google Play, Amazon, CD Baby, and other fine purveyors of music.
Even before the album had been released, I'd written and recorded a new tune, a children's song for my then-girlfriend's daughter: "Hannah's Song." Gina urged me to make the lyrics less specific and re-record it as a song for children everywhere. Perhaps one day... The following year, I wrote and recorded four tracks intended for Joy's follow-up, which at the time was going to be called Tougher Than Flannel. "Down the Shore," "Too Loud to Be Eaten with the Naked Eye" (an instrumental), and "Heavywait" were all recorded in the summer of 2005, followed in November by "Christmas Lonely." The South Bergenite did a follow-up article about the new song and my music, and while it contains several factual errors, it was still pretty cool.
"Christmas Lonely" featured a gorgeous Ovation acoustic/electric twelve-string I'd bought myself as a birthday gift (with some help from my parents). I loved that guitar and its sound, but unfortunately I only had it for about two years before its bridge ripped up off the body due to gluing and humidity issues, and an attempt to have it professionally reglued only delayed the inevitable slightly. While the Ovation is sadly no more, I have added a black Kramer bass guitar, a Traveler Escape MK-II 'traveling' guitar, and a Kona K2LTSB acoustic/electric (all left-handed) to my collection. These days, I use a FireWire M-Audio Ozonic MIDI keyboard controller and audio interface for recording on my MacBook Pro, using GarageBand, Audacity, and the above-mentioned Sound Sculptor Pro for recording, editing, and effects. Speaking of effects, pedals I've used while playing guitar and recording include a Korg ToneWorks AX1G multi-effects processor, a wicked DOD 'Punkifier' distortion, an MXR Prime Distortion, a DigiTech PDS 20/20 delay/flange, a Crybaby wah, an old BOSS SD-1 super overdrive... and a Behringer NR300 Noise Reducer. Then there's that EBow, the Alesis drum machine, the Shure mike, and my amplifiers: I mostly play through an Ibanez ToneBlaster 25R, but when I need to be a little more mobile, I've also got a Line 6 Micro Spider and a Roland Micro Cube.
After saying for years that I should really get out and try to play a live gig, I committed myself to performing, in public (!) during the second annual Make Music New York on June 21, 2008, when public spaces (sidewalks and parks, mostly) throughout New York City were opened up to musicians and listeners free of charge. Before that gig, my friend and fellow singer/songwriter Margarita Shamrakov helped me work up the nerve to perform twice at the open mic at the Lower East Side's now-defunct Banjo Jim's, where I'd spent several Saturdays watching her and others perform. Hell, yes, I was nervous, and made my share of mistakes, but I consider all those performances, and my repeated performances at subsequent MMNY events, to be valuable learning experiences.
Over the next several years, I wrote and recorded more songs, including the electronic "Souls Broken," the pop-punk "Frendy Tucker," the vaguely Who-inspired "Six Months," the political "Dangerous Babies" (the original recording was my second track to feature the twelve-string), the sambatronic "Slime Theme" (how many Webcomics can claim to have their own theme songs?), 2013's "So Much Further," and 2014's "SeptSomber," "The Discontent of My Winter," and "Everything's Different Now," which is the first song for which I've recorded a music video, shot entirely on my iPhone 6.
While I'd planned for years to call the next album Tougher Than Flannel (and the song "Drabbard" even contains the phrase in its lyrics), in 2015 I considered using I Can't Possibly Give More Than I Can Give instead. It was partly a rebuke to those who insist that you "give 110%" and partly an acknowledgment that the past few years had left me feeling spent. I also thought about calling it The Unfortunate Truth, from a line in the song "I'll Live," and once I'd settled on making it a double album, I toyed with the idea of calling the first half The Unfortunate Truth and the second half Signifying Nothing (from a little play you may have come across).
On November 11, 2016, I finally released that double album, ultimately titled I'll Live. Its 42 tracks (yes, you read that right) include several of the songs that originally appeared on Joy, though they were remixed and in some cases partly or totally re-recorded for the new album. Inspired (if that's the right word) by the 2016 presidential election, I did a new version of "Dangerous Babies" and recorded a video for it as well. The album is available on Apple Music, Spotify, Amazon, and other sites. If you're old-school and want a physical CD (well, two CDs, one jewel case), please let me know!
In March 2014, Jon and I got together with two of his other friends, Anthony Minichino and Michael Perry, to form a rock band which we christened Greta's Unmentionables. Yep, the name was my idea. Mike brought his cymbals, Anthony brought his bass, and Jon and I brought our guitars to Aarius Studios in Old Bridge that spring and the four of us started hashing out a song, "The Bite," from a riff and a verse I'd come up with. Several weeks later, a second session at Hellhound Studios (we seem to have led to Aarius' demise...) went very well, too, and we got enough of the song figured out during subsequent sessions that I went on to record my own version for I'll Live. The jams together were a lot of fun, and we did some preliminary work on a few additional songs, but after three years, the inevitable "creative differences" caused us to amicably call it quits. Jon and I still do the occasional Not An Exit thing together, and in March 2015 we began putting together a new tune called "No Looking Back." Don't think we've done anything as NAE since October 2019, though, so it's really time again.
I don't know that I'll ever release a full album again (certainly not another double!). I do still plan to make music, but I think it makes more sense going forward to just put out the occasional EP or single. The indie rock single "She" was written, recorded, and released in September 2020, and it felt good to have the creative juices flowing again. While I've also recorded a number of covers over the years, just because I felt like it (or sometimes to try to jump-start the creative process), I don't expect to ever release one officially, unless I get so wildly popular that a) there's a huge demand for my covers, and b) I can afford to start thinking about the legal and financial stuff involved. Yeah, I know. They can be fun to do, but they're really not a priority. (The "Doctor Who" theme was especially fun!)
If you like the music I'm making, please feel free to spread the word! And then there's always the Shop...