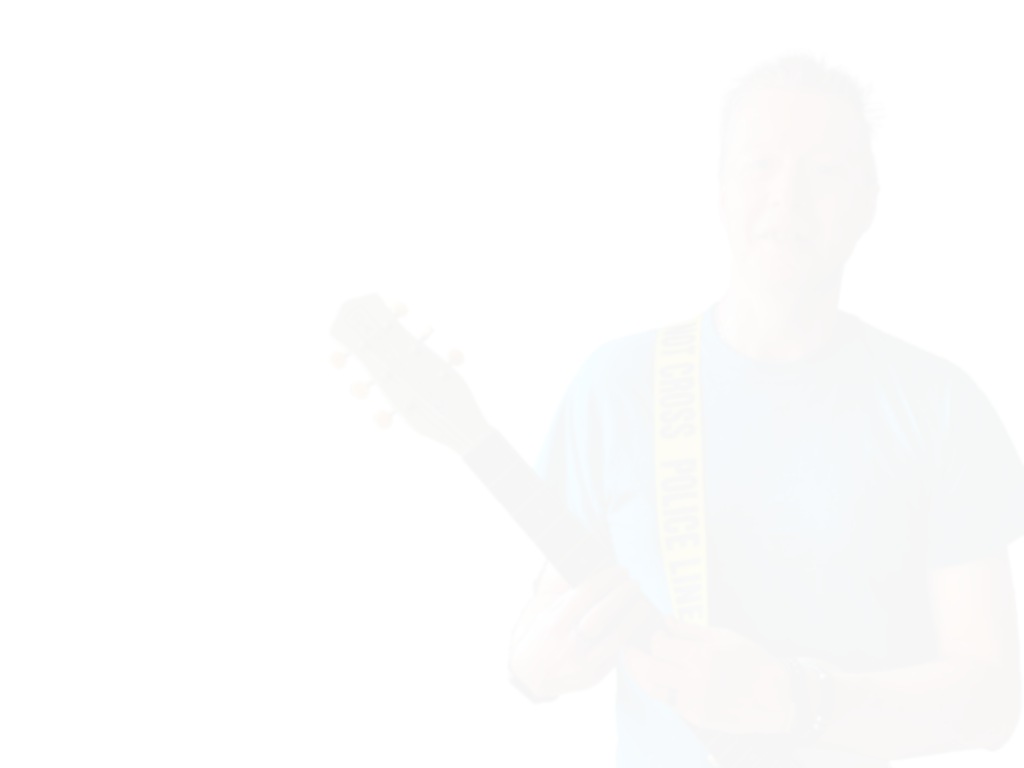 For Those About to Rock
AC/DC salutes me, for I am one of those about to rock. ;) I started relatively late in life, though. My father listened mostly to American country and some Brazilian music when I was growing up, and I neither had nor wanted any real musical equipment (or recordings) of my own, until I discovered the Beatles, with the help of my sixth- and seventh-grade teachers. Suddenly, I was ravenous. Starting with Revolver and 20 Greatest Hits, I soon ended up owning every official original Beatles album ever produced (and even a handful of bootlegs).
I loved the band and all of its music, whether it was the light pop of "She Loves You," the experimentation of "I Am The Walrus" and "Revolution No. 9," or the straight-ahead rock of "Everybody's Got Something To Hide Except For Me And My Monkey" and "Revolution." I became interested in rock music in general, and while I started listening to the radio, switching back and forth between oldies, 'classic' rock, and top-40 stations, I was hungry to learn more about where today's music had come from. Over the next few years, I schooled myself in rock and roll, buying albums from different sub-genres such as progressive/art rock (King Crimson, Pink Floyd, Yes), psychedelic/acid rock (the Jefferson Airplane, the Grateful Dead), early heavy metal (Black Sabbath, Deep Purple), glam/glitter rock (David Bowie, T-Rex), and punk rock (the Sex Pistols, the Clash, the Ramones). I quickly became a huge fan of Led Zeppelin, the Who, and the Rolling Stones, too, as well as some newer music.
So, today, my music collection (close to 500 vinyl LP records and over 400 compact discs and tons of digitized music) includes all of the above, plus some speed/thrash metal, hardcore and 'new school' punk, jazz, blues, industrial, rap, bubble gum, classical, world beat, and lots of my fellow singer/songwriters. I've been fortunate enough to have seen live performances in person by (in no particular order) the Who, the Rolling Stones, Pink Floyd, the Sex Pistols, the Ramones, Roger Waters, Nine Inch Nails, Shannon and Natalie, Sting, the Violent Femmes, Aimee Mann, KISS, Run-DMC, Eric Idle, Tatiana Moroz, Jane's Addiction, Versaemerge, Dead Kennedys, the Frail, the Police, the Plain White T's, Evelyn Forever, Steve Winwood, elizabeth!, the Smashing Pumpkins, Eye Alaska, David Byrne, State Radio, Laura Cheadle, Sheila E., the Cure, Steel Train, LL Cool J, Metallica, Tori Amos, the Vandals, Margarita Shamrakov, Prince, the Revolution (though sadly not with Prince), Kitten, Sleeping Lessons, Tegan and Sara, Richie Havens, Forever the Sickest Kids, Kelly Clarkson, All the Day Holiday, Hunter Valentine, Living Colour, Big Blue Accident, the Maine, Rush, Goli, Xenia Sky, O'Brother, the Rock Bottom Remainders (comprising, during various performances, Stephen King, Dave Barry, Amy Tan, Matt Groening, Scott Turow, Mitch Albom, and others), Regina Spektor, Say Anything, Cyndi Lauper, Motörhead, Becca Hasselbrook, Anna Nalick, the Advertisers, An Horse, Sharon Jones and the Dap Kings, Chant, Rini, Motion City Soundtrack, Timbuk-3, KT Tunstall, Saves the Day, Tom Petty and the Heartbreakers, Tokyo Police Club, Plastiscines, 100 Monkeys, Limp Bizkit, Ashley Mounts (aka Ashley Jana), the Pretty Reckless, Kauf, Paul Simon, Streetlight Manifesto, the Rollins Band, Allstar Weekend, thenewno2, Fall Out Boy, Deluka, Rivky, Paper Tongues, Kiyomi, Bruce Springsteen, the Aquabats, Hanson, Static-X, QTY, Ace Frehley, Busta Rhymes, Alkaline Trio, the Indigo Girls, Bullet for My Valentine, Eric Clapton, the Fiendz, Amaranthe, Angels and Airwaves, Circa Survive, the Malibooz, Linkin Park, Rockstar Sissy, Céu e Mar, Ke$ha, Taking Back Sunday, Chuck Prophet, Something Corporate, Sleeper Agent, Joan Jett and the Blackhearts, Pennywise, Phox, Nathan Xander, Ice-T and Body Count, Drake, Iron Maiden, Keith Urban, Karmin, Thrilldriver, Skunk Anansie, Sydney Price, Grafitti Man, New Found Glory, Dan LaVoie, Marilyn Manson, Gary Numan, Paramore, Mucky Pup, Def Leppard, Norah Jones, Lovers League, Pussy Riot, Dashlight Confessional, Canyon, Blame Candy, Mudvayne, Torres, Ronnie James Dio, Gabriel the Marine, Lena Potapova/Tessa Makes Love, Foo Fighters, Dayglow, Nona Hendryx, Wicker Hollow, Alicia Keys, Blonde Redhead, Ozzy Osbourne, Bianca Monica, Hinds, Serious Pilgrim, Céu, X, the God Bombs, Little Joy, the Dave Matthews Band, Moving Mountains, the Juliet Dagger, Gravity Kills, Les Paul (the man and the guitar), the Gaslight Anthem, Minus the Bear, Dorian Electra, Kathleen Edwards, Olivia Somerlyn, Neko Peoples, Judas Priest, Hirie, the Prophets of Rage, the Offspring, High Teen Boogie, John Mayer, Grandmaster Flash and the Furious Five, Yerba Buena, Rob Zombie, Billy Joel, Foxy Shazam, Pete Townshend, Sleater-Kinney, Akon, Jeff Beck, Francis and the Lights, Saxon, Ludacris, Lou Reed, New Skin, Sheryl Crow, Bury Me Standing, Dr. Israel, Mute Math, Mike Scott, the Deftones, Matt and Kim, Alanis Morissette, Petaluma Vale, Blue October, the 69 Eyes, Chelsea Wolfe, Angelique Kidjo, Adam Ant, MGMT, L.A. Witch, Gogol Bordello, Debbie Harry, Snag, the Roots, the B-52's, Tori Vasquez, Lissie, Jerry Harrison, AWOLNATION, Snail Mail, Soulfly, Martin Rivas, Melissa Etheridge, Weezer, Nicole Atkins and the Black Sea, Lita Ford, Crowded House, Spider Bags, Juliana Hatfield, Cassidy, the Smithereens, Sharkmuffin, Within Temptation, Program the Dead, Ministry, the Glam Skanks, Yusuf Islam, the New Cars, Kanye West, Cayetana, the Tom Tom Club, Skylar Grey, Courrier, Duncan Sheik, the Go-Go's, Baby Shakes, Fishbone, Stabbing Westward, Shonen Knife, Nickelback, Ani DiFranco, Public Image Limited, Paolo Nutini, Bad Religion, Peter Gabriel, Rubix Kube, the Damnwells, Black Star Riders, Samia, WAKRAT, They Might Be Giants, the Black Keys, Christina LaRocca, the Comrades, Rebelution, Osea, Jeff Tweedy and Mavis Staples, Waxahatchee, Justin Levinson, Ringo Starr and His All-Starr Band (at the time, that included Paul Carrack, Colin Hay, John Waite, Sheila E., and Mark Rivera), Verona Grove, Ex Hex, Jon Secada, the Robert Cray Band, Squirrel Flower, Lenny Kravitz, Emilie Autumn, Blondie, the O'Jays, Grandpa vs. Prowler, Vanessa Carlton, Favors for Favors, Kailin Garrity, Bon Jovi, Nahko & Medicine for the People, Cassandra Wilson, Queensrÿche, Condemned, Skye & Ross, Krill, Television, Charlotte Sometimes, Shawn Hook, Tony Bennett, Lydia Loveless, Only Son, Speedy Ortiz, Soundgarden, Collie Buddz, Indigo De Souza, the Shadowboxers, Mary Bichner, Clay Aiken, Ted Leo, Lindsey Stirling, Trevor Moss & Hannah-Lou, DIANA, Inky Glass, Courtney Barnett, Scars on 45, Tania Stavreva, Man Man, Bad Brains, Perfect Pussy, the Above, Mary Lou Lord, the Coathangers, Michelle Malone, Nick Cave and the Bad Seeds, Overlake, We Were Promised Jetpacks, Dead Sara, KMFDM, Ana Popović, Plastiq Passion, Chloe Lilac, Samantha Preis, Titus Andronicus, Jonathan Coulton, Amanda Palmer, Annie Hart, Elysian Fields, Jerry Lee Lewis, Linda Gail Lewis, the War and Treaty, Maddy Bowes, Pilfers, Tessa Violet, the Jungle Rockers, and several other well-known and unknown original and cover bands, and I haven't stopped going to shows yet. Not a bad mix of musicians... Music (recorded and live) has long been a very important part of my life, and I'm glad of that.
I think the fact that I got into the heavier stuff later in life has helped me appreciate real musicianship more. When my peers were bangin' their heads to the Crüe or Metallica or Suicidal Tendencies, I was still awed by Who's Next and the waltzes of Johann Strauss. I didn't start listening to metal or punk records as a rebellious teen, but as a curious young adult music fan. I'm probably one of the few people my age who didn't listen to Master of Puppets when it came out but will blast the hell out of it now, and I like Metallica's newer stuff, too (well, St. Anger not so much...). I'm older, and there's a lot of mellow stuff in my collection nowadays, but that doesn't mean I can't still thrash to some Snag or pogo to the Ramones or pump my fist to NIN.
I try to rotate my current listening from time to time. It's too easy to get hooked on the same albums or bands and not listen to anything else, even when you've got an extensive iTunes music library. I'm listening to more music from the lesser-known and independent bands/artists I've come across over the years, some of whom I've had the good fortune to meet and get to know, online and/or off.
My eclectic tastes in listening to music have, undoubtedly, affected my own creativity as well. I've consciously and unconsciously revealed influences in my recordings already. The very first Not An Exit recording of "Dead," back in 1992 when I could barely play the guitar at all, featured an attempt at a Chuck Berry/Billy Zoom-style rockabilly lick, which has been carried through to several subsequent re-recordings of the song; in my opinion, I nailed it just right for "Dead (again)." The handful of covers I've done are obviously tributes (after a fashion) to the original artists, and "Not Fade Away" manages to acknowledge Bo Diddley, George Thorogood, U2, and the Who (and even Andersen Silva!), in addition to Buddy Holly. My own "Source of Pain" borrows a bit from the Beatles' "And I Love Her." The title (though little else) of "Blond on Blonde" was inspired by Bob Dylan. "J-ded" is, lyrically, a response to Billy Joel's "Angry Young Man," just as "That's Just What I Am" is a tongue-in-cheek answer to Aimee Mann's "That's Just What You Are." And I think I remain influenced by Nine Inch Nails, David Bowie, Pink Floyd, Talking Heads, and others... Thanks for the music, guys!