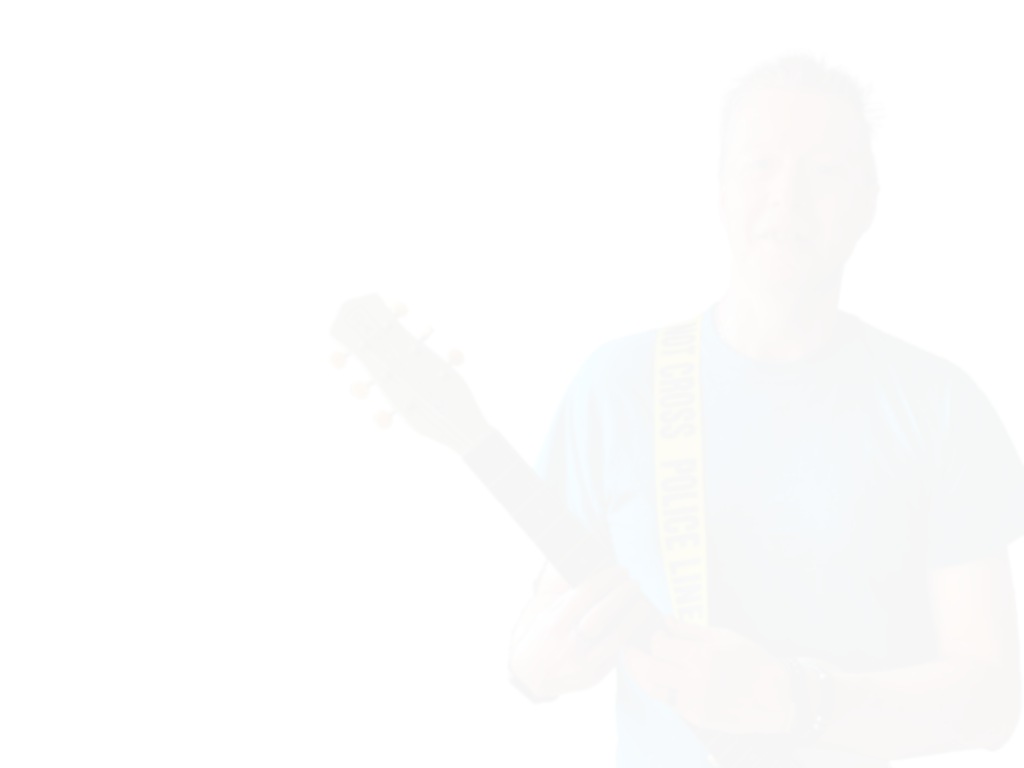 Music: Originals
I've written and recorded around 50 of my own songs now. I'm as surprised as you are. My debut album Joy in the New was released in August 2004; the long-delayed follow-up, the double album I'll Live, finally came to life on November 11, 2016. I'll Live can be purchased from the iTunes and Google Play Music Stores, among other sites.
Everything's Different Now [2014]
[listen] [lyrics]
I'd intended to write a song with this title for a while, but I actually got most of the music figured out in November 2014 before I threw together these lyrics for it, getting the recording done in the same month. The tune's more of an observation than a lament, I'd say.

The Discontent of My Winter [2014]
[listen] [lyrics]
It took me almost a year to write and record this one. I finished it in November 2014, along with "Everything's Different Now," and when I realized that they share the same chord structure, I figured I'd make a medley of them on the album, whenever that gets done.

SeptSomber [2014]
[listen] [lyrics]
Another portmanteau song title; I wrote and recorded "SeptSomber" in September 2014. It was inspired by the gloomy grey I felt as a result of upcoming dates in the month (what would've been Laura's and my third anniversary had we still been together, and what would've been our first wedding anniversary, plus another birthday alone). Most of my recordings feature electric guitar, but for this one, the Kona, with no effects, just seemed right.

So Much Further [2013]
[listen] [lyrics]
I do seem to revisit titles and turns of phrase, don't I? There was "Joy in the Now" and "Joy in the New," and now there's "So Much Happy" and "So Much Further" (plus the poem "So Much More"). I started writing the lyrics to this one in late August 2013, after Laura broke off our engagement, and our relationship. The recording was done in time for my 43rd birthday, and I like to think that the bouncy music compensates for the mopey words.

So Much Happy [2012]
[listen] [lyrics]
This song was inspired by my newfound joy with life after falling in love with Laura near the end of 2011. In response to a Facebook post of mine, a friend commented that I'd "found my happy," and I liked the sound of that. I had, indeed, found so much happy, and I started conceiving of this song in January 2012, finishing it in a burst of creativity on our six-month anniversary that March.

Slime Theme [2012]
[listen] [lyrics]
My then-girlfriend Laura and I decided to start a Webcomic together, and Slime debuted on February 2nd, 2012. I also saw fit to put together a new piece of music as the "theme song" to our comic, and this hybrid of electronic sounds and acoustic guitar samba rhythms went up on the home page the same day. Sadly, Slime didn't outlast our relationship by very long, with the last strip published on September 6, 2013.

Loster [2009]
[listen] [lyrics]
"Loster" is more bitter than most of my songs, in its treatment of both the protagonist and the woman he lost. I'd laid down a brief demo of the song many months before I got around to really doing it, but I hadn't left myself any notes on what exactly I was playing on the guitar, so I had to spend fifteen minutes to figure it all out before I could record. I don't use much piano in my recordings, but coming hot off the heels of my cover of "Tomorrow Never Knows," this session found me adding a few keyboard touches.

Rockhopper [2007]
[listen] [lyrics]
This was probably the first time that I'd had a complete set of lyrics, and almost a complete musical recording, that I put together without either having been written specifically for the other. I'd written "Rockhopper" several weeks earlier, intending to record it but not really having thought about how the music would sound. In mid-March 2007, I came home from work one night determined to get some recording done, and I slammed together most of the guitar part, saving it as "No name yet." It wasn't 'til the next day while thinking about the bass part that I considered fitting the "Rockhopper" lyrics to this music.

Drabbard [2007]
[listen] [lyrics]
I started piecing together the music that would become "Drabbard" shortly after buying my PowerBook in 2005 and becoming acquainted with Apple's GarageBand software. I tinkered with the tune a few times over the next two years before deciding to put the idea of writing a song about writing songs together with that particular musical experiment.

Dangerous Babies [2007]
[listen] [lyrics]
While I had a specific world leader in mind when I thought up these lyrics, there are plenty of others, past and present (and future, no doubt), who fit the bill, too. The twelve-string got a bit of juice in this recording, a reminder that it was an acoustic/electric. A few weeks later, I remixed the tracks into the "decider mix."

Six Months [2006]
[listen] [lyrics]
I'm just full of silly love songs... or something. The idea for this song came to me after about three or four months, I started writing it at six months, and I finally finished it after a year, coming full circle for my birthday. I like the keyboards, they remind me a little of the Who; not so much the middle bit, but certainly while I'm singing. Probably just me, though.

Rock and Roll Day [2006]
[listen] [lyrics]
After my friend Theresa mentioned to me that 'Rock and Roll Day' was coming up (yes, it's a real holiday in early July, at least as far as the greeting card companies are concerned), I was playing some of my older songs on the Danelectro when the intro came to me. I quickly figured out the rest of the music, and came up with lyrics a week later, using Theresa's suggestions as a cue; I recorded it the same day.

Frendy Tucker [2006]
[listen] [lyrics]
C'mon, you can figure it out... This song was undeniably influenced by the Offspring, though I don't think it sounds much like them. The vaguely Arabic lick is a nod to Dexter, and the lyrics are more radio-friendly than the punkers' own "trendy" song. After my last few recordings, it felt good to rock when I did this in mid-February 2006.

Souls Broken [2006]
[listen] [lyrics]
Begun just before New Year's Eve 2005, this happy little number was completed a week later. I hadn't intended for it to become electronic... but that's how it turned out. GarageBand was an invaluable tool for this one.

Christmas Lonely [2005]
[listen] [lyrics]
I thought up this song in December of 2004, but only wrote a line or two, until the following November when I finished the lyrics and recorded it. This is the first song I recorded using the Ovation twelve-string, and I really liked the sound.

Heavywait [2005]
[listen] [lyrics]
I used to make fun of Paul Simon for trying to squeeze extra syllables into his song lyrics, but forgive me, Rhymin' Simon, for I'm occasionally guilty of the same pleasure. I wrote this song in the spring of 2004 while my baby was away, during one of my "heavy waits" for her return. I believe I was actually walking unencumbered down the shady side of her street when that particular line came to mind...

Too Loud to Be Eaten with the Naked Eye [2005]
[listen] [lyrics]
Another of the very few instrumentals I've recorded during my 'solo' musical career. The name came to me several years before any concept of the music did, though I knew all along that I wanted it to be moody and jazzy.

Down the Shore [2005]
[listen] [lyrics]
I was told of a DJ's quest for the perfect beach song, and while I don't think "Down the Shore" really fits the bill, I was inspired to write it anyway. I think the techno bass works pretty well with the surf guitar and drums, and the lyrics make it clear that I'm a Jersey boy, and hey, you can't go wrong with a little cowbell...

Hannah's Song [2004]
[listen] [lyrics]
Gina and I were talking one night about children's music, and I joked about recording some. I put together these lyrics about her daughter and laid down a track with a vague "All Together Now" feel to it. Maybe I'll try another kids' song at some point...



---
Joy in the New

I'd always thought about recording an album's worth of music, but never put any serious work or consideration into it until 1999. I wrote and recorded over the following five years, until I released Joy in the New in 2004 (see the press release here). Below are lyrics, audio links, and artwork for each track from the album.

"Extra-large thanks to Barbara, Dave and Dawn, the Hellevators, Jon, Joseph, Mart, Michael, my parents, Not An Exit, Rene'e, Steve, and the other three people who have encouraged my music over the years. Special thanks to Gina, the muse who inspired several of these songs; this album is dedicated to you, as am I."
1. Gasp... [2004] [listen] [read]
Originally, I was going to read four of my poems on the album, but while determining the track list, I reconsidered and decided to use only this one, probably my favorite, and certainly the favorite of several of my friends. Written in 1992 during a spare few moments at Toys 'R' Us, "Gasp..." is not exactly light-hearted, but neither is it as gloomy as it might appear at first read (or listen).

2. Joy in the Now [2000]
[listen] [lyrics]
Written in the winter and recorded in the late summer of 2000, "Joy in the Now" tweaks the opening line of "For Dana" (track number 4, written earlier) in a positive way; where the latter was despondent, this one's exuberant. I played a single guitar part, but ran the signal through the overdrive pedal and the Punkifier separately and recorded both, giving it a different sound. A guitar/bass/drums song, from a mostly guitar/bass/drums kinda guy.

3. Look at the Stars with Me [2004]
[listen] [lyrics]
The lyrical theme, of two lovers looking in the night sky at the same time while far apart from each other, came to me while taking the garbage out one night. No, really. The title and the drum intro (patterned after Led Zep's "When the Levee Breaks") were conceived back in the summer of '99, but I didn't flesh out the lyrics until four years later, finally recording "Stars" in early '04.

4. For Dana [2001]
[listen] [lyrics]
Sitting on the couch with a guitar, I came up with the main elements of this song, lyrically my "Layla," on a Monday in 1999. In my head, at the time, it was going to be more of a Def Leppard-style power ballad, but I couldn't find a one-armed drummer... When I started working on the original recording, I realized I'd written it just out of reach of my voice, so I brought it down half a step. The newer version that's on the album, recorded and mixed in six days in June 2001, rocks a bit more than that first one.

5. Swingin' in the Park (After Dark) [2003]
[listen] [lyrics]
Not An Exit recorded our version of "Swingin'" back in 2000, a few months after I'd written it following an introspective visit to Nutley's Yanticaw Park at night. While I certainly liked the way it turned out (a friend told me it reminded her of Frank Zappa, which I found flattering, if unexpected), I decided to re-record it on my own, and finished that in May 2003. My recording is very similar to NAE's; however, when we recorded ours, I somehow couldn't reproduce the guitar part I'd recorded on my first demo, and found myself forced to improvise an alternative. The second time around, doing my own recording, I was able to figure out what I'd actually intended to play; as a result, the guitar part is different, and the second solo is a bit more focused, too.

6. American in London [2002]
[listen] [lyrics]
I intentionally used the cadence of Sting's "Englishman in New York" when I wrote these lyrics in St. James's Park in London in early 2000, and the lines are sort of a wink and a nod to him, though the two songs don't sound alike at all. This song was improvised on November 9, 2002 while I sat with my guitar and let my 'new' Alesis drum machine inspire me. The track was my first to feature the Alesis, as well as the EBow Plus, a nifty little gadget that takes the place of a guitar pick, in the solo, giving the guitar a sort of violin/synth sound.

7. Extreme Close-Up, then Fade to Black [2001]
[listen] [lyrics]
he word 'extreme' has stuck with me since my short-lived 'zine days. When I wrote this song in the fall of 2000, I used cinematic references to portray someone who wants to share and to be understood. The recording, completed in May 2001, reminds me of early-'90s industrial fused with early-'80s new wave.

8. Source of Pain [2000]
[listen] [lyrics]
John Hiatt's "Permanent Hurt" was in my head when I wrote these lyrics, and I again borrowed another song's cadence, though once again I think I managed to get away with not having my song sound like a rip-off. I wrote it in mid-2000, recording it before the end of the century using a harpsichord sound on my Yamaha keyboard and a guitar lick (and drums at the end of the track) reminiscent of the Beatles' "And I Love Her."

9. Forlorn, Forsaken... Forgotten? [2001]
[listen] [lyrics]
This slow, brooding song was written in the summer of 2000 and recorded in January 2001. It reminds me of a cross between Nine Inch Nails' quieter, moodier music (like "Something I Can Never Have" and "Hurt") and Not An Exit's early "A Better Place." Hmmm, starting to sound like myself...

10. Not An Exit [2004]
[listen] [lyrics]
Jon wrote most of the music to NAE's eponymous song, but when we first started working on recording it in November 2000, we hadn't come up with any lyrics yet, just some basic ideas. I figured I'd better sit down and write 'em myself, or we'd never get around to it. We may end up with three recordings of this song down the road, if we do one together and he does one on his own... but in any case, mine was finished in late March 2004, and some people consider this the best track on the album. It certainly rocks, and for someone who rarely does guitar solos, I did a decent job here. I think.

11. Human Thing [2003]
[listen] [lyrics]
"Human Thing" is the first real original I recorded solo, in early '97, though I'd written it in 1992. That early version was a very primitive sort of industrial, kinda Jim Thirlwell meets the 15-year old Trent Reznor by way of Ross Perot samples. Heh-heh... The recording quality, coupled with my lack of experience and skill, made for a curiosity; still, some people liked it, and I have to admit that I still enjoy listening to it. Most of it. Jon and I decided at some point that Not An Exit would record a version, which hasn't happened yet, but I did re-record "Human Thing" myself in May 2003. This one's not really industrial, I suppose, but it does briefly use the heavy Bo Diddley rhythm I'd created for the original, as well as a sample or two at the start of the song. I made a remix of it as well, the "alien mix".

12. Joey Ramone's Dead [2004]
[listen] [lyrics]
I won't claim to be the biggest Ramones fan in the world, but I do love their music, and I was fortunate enough to have seen them on the Escape from New York tour (which also featured Debbie Harry, Jerry Harrison, and Tom Tom Club). I was saddened to hear of Joey's death, and as I was having trouble deciding on an album title, the phrase "Joey Ramone's dead" sounded as good as any other to me. A few days later, I figured that a punk song with the same title needed writing, so I wrote it. I eventually selected a different name for the album, but kept the track on it. I wasn't really trying to sound like the Ramones when I recorded it in early April '04, and frankly I think it's a little more reminiscent of the Offspring.

13. Hole in the Wall [2003]
[listen] [lyrics]
This was the first lyrical idea I'd ever conceived of, back in 1991, as a song that wasn't on The Wall but should have been. Cocky, huh? I didn't get around to writing the full song until ten years later, and the recording and editing spanned July and August of 2003. To my ears, it does evoke Pink Floyd, and maybe even a little Queensrÿche, but perhaps it's not quite Wall-worthy. You tell me. Not that Znowy White is in any danger of replacement, but my solo does sound a bit like something from Floyd's classic album, at least to me.

14. Blond on Blonde [2000]
[listen] [lyrics]
As I mentioned above, I'm basically a guitar/bass/drums rock 'n roller. I'll always experiment with other instruments and other sounds, but I'll always go back to my roots, too. I guess one of the reasons I dig punk so much is that the punk revolution was, originally, a return to that stripped-down rock sound. You don't generally hear extended guitar or drum (or keyboard!) solos on a punk record... and since I rarely try playing a solo, for good reason, punk is a great fit for me. Heh-heh. When I recorded this late in 2000, months after writing it, I had a Blink-182 sorta sound in mind. And no, the song is not based on my real life.

15. J-ded [2000]
[listen] [lyrics]
This sequel to "Human Thing" was written and recorded in the first two months of 2000 and is more heavily industrial than its predecessor's original recording. Part of the rhythm is a loop of samples anchored by the (filtered and processed) sound of Fox Mulder kicking a garbage can across his office in an "X-Files" episode. The first two verses are direct retorts to Billy Joel's "Angry Young Man."

16. Second Shot [2003]
[listen] [lyrics]
More pop-punk, and one of my favorite self-penned lines: "We talked and we talked / The fat we did chew." Yes, it's silly. I also like the double meaning of the 'second shot,' both a new chance at love and an opportunity to have another drink together. Written in the summer of 2003, and recorded the following winter.

17. That's Just What I Am [2004]
[listen] [lyrics]
This song is, in part, an answer to Aimee Mann's "That's Just What You Are." It's also a light-hearted love song. Not everything I write is deadly serious... I wrote and recorded this tune around the same time as "Second Shot" and "Dances on Clouds."

18. Dances on Clouds [2003]
[listen] [lyrics]
She really did make me dance on clouds. I wrote most of this song while sitting beside Walden Pond; maybe the Native American title was inspired by the beautiful setting. I know it had nothing to do with Kevin Costner.

19. Today [2004]
[listen] [lyrics]
The morning of my thirtieth birthday, I pondered the lack of good, rockin' birthday songs (with the obvious exception of the Beatles' track). So, I wrote my own, and tried to make it the kind of tune you can play even when it's not someone's birthday. Whether or not it's good and rockin' is of course open to debate. I finally recorded this in May of 2004, just in time to dedicate it to Gina for her birthday.

20. Inspired by My Muse [2003]
[listen] [lyrics]
The first original instrumental I'd recorded since 1994's "Victory Samba," "Inspired" is a very cheery and uplifting tune. At least, it tends to make me smile. The three guitar tracks (no bass in this song) were recorded spur-of-the-moment on an inspired day in August '03.

21. Joy in the New [2004]
[listen] [lyrics]
No, that's not a typo. Several months after recording "Joy in the Now," I found myself occasionally playing the song with a different groove. I hadn't planned on re-recording it, but falling in love in the fall of 2003 gave me an excuse to write new lyrics to the old melody, and I turned the whole shebang into a new song early in 2004. I find the title appropriate for this collection of tunes, and I think bracketing the album with the two "Joy" songs worked out well.



---
Most of my solo recording prior to starting work on Joy in the New was cover songs... but then there are these two gems (and the above-mentioned "Human Thing").
Troll Doll [1999]
[listen] [lyrics]
"Troll Doll" came about as a result of some voicemails I was asked to retrieve at work. Hearing the content, I found some soundbites that presented themselves as perfect for a techno-style song, something I'd never done before. I threw in a few Metallica samples, too (don't tell James and Lars), and this gabber-fest was born, along with its remix, "Troll Doll (in dem Haus)."

Victory Samba [1994]
[listen] [lyrics]
After watching Brazil's victory in the 1994 World Cup with a number of Italy fans, I went home to quickly compose this one.