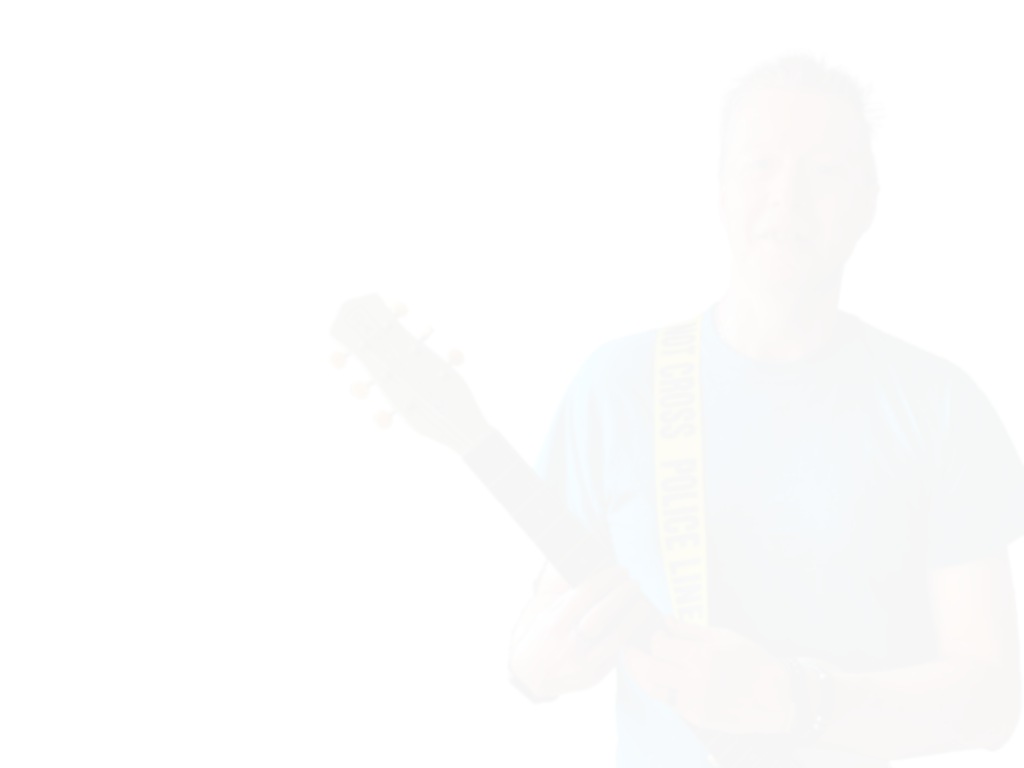 Music: Covers
I was enjoying other people's music long before I ever tried (or even thought about) making my own, so I can't resist occasionally recording other people's songs in addition to mine, now that I can play an instrument or three. Sometimes doing a cover also helps me jump-start the record process for my own tunes, too. Take a listen:
World Wide Rebel Songs [2014]
As happens all too often, I intended to do some work on one of my own songs in mid-August 2014 when I found myself considering recording a cover of this Nightwatchman (aka Tom Morello) song instead. The then-recent violence in Ferguson, MO, as well as wars in the Gaza Strip and Ukraine, inspired me.


One Guitar [2012]
The One Guitar Collaborative Charity Initiative was trying to both raise money for the TJ Martell Foundation and break the Guinness Book World Record for the most recorded song in history; they both sounded like worthy goals, and I was already familiar with Willie Nile's song after learning it with the Occupy Guitarmy, so I offered up my own version, and my then-girlfriend Laura gamely agreed to add her backing vocals to mine.


I Wanna Be Your Boyfriend [2011]
I'd intended to start recording a new original in mid-September 2011, but somehow, I found myself thinking about this Ramones song instead, and I dedicated it to a specific someone. :-)


Tomorrow Never Knows [2009]
The Beatles' Revolver is the first album I ever really got into, and this song is one of my favorites from it, but the idea to do the cover just popped into my head one day from out of the blue, and I recorded it just a few days later. In fact, it kick-started the recording process again; I did this one on a Saturday, and "Loster" the next day.


Fourth of July [2006]
Another holiday song... I've always enjoyed the original by X; I recorded this twelve-string rendition on the 4th, and you can hear some of Lyndhurst's fireworks crackling in the background.


Christmas (Baby Please Come Home) [2004]
U2's cover has always been one of my favorite Christmas songs, and I covered their cover while missing my (then) baby during that holiday season; I ended up seeing her on Christmas Eve.


Dirty Water [2003]
An old Standells song about Boston; they weren't actually from there, either. Heh.


Powerhouse (excerpt) [2003]
You probably don't know "Powerhouse" by name, but you may well recognize this part of it, even if my rendition is more rockabilly.


Rockin' in the Free World '03 [2003]
I redid this cover, partly at the request of a friend, and coincidentally I recorded it the day Dubya started his Illegal War.


How Much More [2002]
Yes, a Go-Go's song; hey, the Go-Go's kicked some major ass! I'd wanted to record this one for a long time, and maybe it makes up for the Hellevators' "We Got to Eat."


Rockin' in the Free World [2002]
This track holds two distinctions: it's the first I recorded directly to the iBook, using an iMic USB audio converter/interface, and it's the first time I recorded myself singing and playing the guitar at the same time. It's got a very unpolished live sound, but then that's what I was going for, and I don't think Neil Young would have a problem with that at all.


Just Like Heaven [2001]
She almost did run away with me... but then I found myself alone, alone, alone above a raging sea...


Happy Xmas (War Is Over) [2000]
Not sure war will ever be over, no matter how badly some of us want it. Still one of my very favorite Christmas songs.


Terrible Lie [2000]
Hey, God, this has always been one of my favorite NIN tunes, and while I may not have done it justice, it was lots of fun to take on.


Not Fade Away [1999]
I tip my hat to Bo Diddley, George Thorogood, and a few others in addition to Buddy Holly in this cover; there are a lot of songs that've used this beat.


Rebel Rebel [1997]
I know, it sounds like I borrowed the Human League's drum machine to do a Bowie song... Some day I should go back and finish the "Heroes" cover I started, too.


(I'm Not Your) Steppin' Stone [1997]
Not the first punk rendition of this pop classic, and probably not the last; I love the accidental radio broadcast that got picked up at the very end!


Can't Stand Losing You [1997]
An early Police tune; what Sting doesn't know won't hurt him. Much.


Rainbow Connection [1996]
An instrumental version of the 'Muppet Movie' song, featuring a Commodore 128 playing rhythm but no frogs or real banjos.